Samsung Galaxy S3 Already Best Selling Smartphone on Amazon.de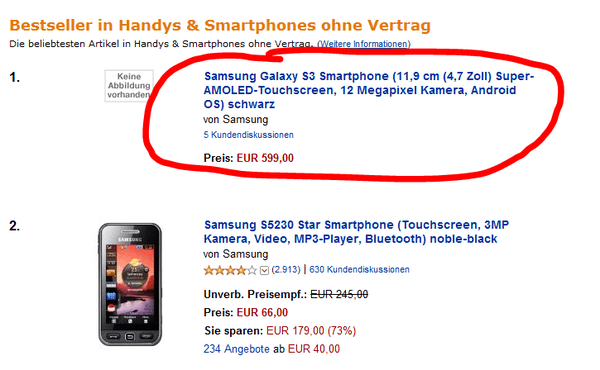 Even before launching, the Samsung Galaxy S3 is already the top-selling phone on Amazon.de. The device beats a number of the company's other handsets – including the Galaxy S2 – on the site's bestseller list.
The phone is being listed at €599 ($786) and the specs include a 4.7-inch Super AMOLED display, a 12 MP camera and 16GB of internal storage. It's unclear whether this posting is the real deal. However, a number of German folks have seemed to respond to it, skyrocketing the listing to the top of Amazon's best-selling smartphones list.
As of now, all we really know about the Samsung Galaxy S3 we've learned from a leaked video, although apparantly a benchmark test was leaked as well. More on that soon.