Goodbye Wallets, Hello NFC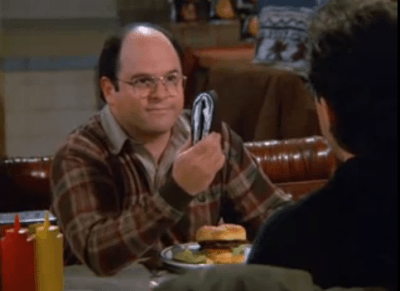 (Could George Costanza's over-stuffed wallet go the way of the dinosaur?)
The mobile wallet is already huge in places like South Korea. In the States, meanwhile, Google Wallet has been gaining more and more traction. The future of ISIS is looking bright, as well, since the company has decided to embrace the three biggest payment networks (Discover, Mastercard and VISA). Additionally, both VISA and American Express are creating their own NFC programs.
Could it be that we'll all be swapping our physical wallets for virtual ones in the next few years?
Paypal seems to think so. The company has predicted the end of the wallet by the year 2015. "We believe that by 2015 digital currency will be accepted everywhere in the U.S.," wrote Scott Thompson, the president of Paypal, in a blog post on the company website. "We will no longer need to carry a wallet."
Wondering what the growth in NFC will look like, a professional community service site named G+ has created a slick infographic charting its rise and providing some tasty numbers to chew on. G+ believes that by 2013, sales of NFC equipped phones will exceed $75 billion and that 1 in 5 cell phones will offer NFC technology. Transactions will then balloon in 2015, approaching $670 billion. Take a look at their slick poster below: