Google Behind Closed Doors: Why There's Reason to Worry About a Google-Motorola Monopoly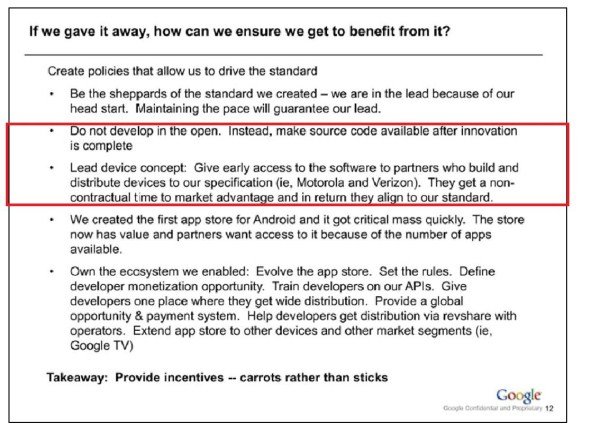 (Image: FOSS Patents)
Does Google give preferential treatment to certain OEMs? The answer, according to recently-released court documents, indicate "hell yes they do." As part of the Oracle case, evidence the search giant hoped to withhold was found by FOSS Patents Blog that indicates Google grants early access to hardware partners that oblige by their rules. This evidence suggests that Google's Android ecosystem is nowhere near as open as the company would like you to believe, and that Google engages in practices that could be called "anti-competitive" when it comes to releasing new technology.
The document, obtained by FOSS Patents writer Florian Mueller, includes a section in which Google writes, "Do not develop in the open. Instead, make source code available after innovation is complete." In the next section, Google writes, "Give access to the software to partners who build and distribute devices to our specification."
The document is especially relevent in light of Google's recent acquistion of Motorola. As Florian Mueller writes in his blog Foss Patents, "If Google already intended to give privileges access to Motorola in the past, how can anyone seriously believe that if the aquisition of Motorola Mobility was closed, a wholly owned Google subsidary named Motorola Mobility would not enjoy key privileges over its competitors?"
But early access is only one of the reasons Android OEMS might be concerned about the Motorola-Google deal. With Motorola under their gaze, Google could also start to pump out impossibly cheap Android phones, subsidized not only by network operators but buy the device maker itself. The reasoning goes a bit like this; since Google's business model is all about strengthening their advertising-financed online services, it would be in their best interests to lock as many users to its services as possible. Even if they lose money in the manufacturing, they would gain it back (and then some) when Android users utilize their services.
As another internal Google document in the Oracle case revealed:
"Android isn't a new product to monetize; it's a new medium to drive monetization on existing products."
With these documents in the open, Google is likely going to find it hard to convince Open Handset Alliance members, and antitrust investigators, that the Motorola acquisition won't lead to complete Google monopolization.