Google Docs Adds Camera Function, Now Available in 46 Languages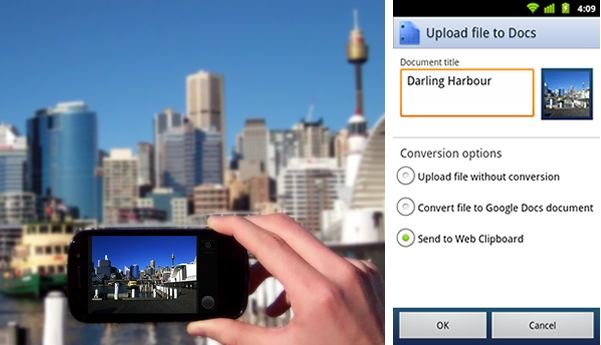 When it comes to sharing pictures using your Android you've got plenty of options, including Flickr, Twitter, Picasa and Google+. But what if you want to integrate a photo into a document? Up until now, your best bet was probably the LiveJournal app, but that would simply allow you to embed a photo in a blog post. Now Google Docs has rolled out an update that makes it possible to easily snap and embed photos in your Google documents.
All you have to do is click on the Google Docs widget and take a photo, then click a button which reads "Send to Web Clipboard." The image is then saved to a cloud, and accessible to you from any computer through Google Docs.
Google Docs was released about six months ago and has been a pretty big success on Android Market. I use Google Docs so often at work and home that I sometimes even wonder if programs like Microsoft Word will be around in the coming years. For formatting, it's not the greatest, but often all we need is a simple word processing program to get our thoughts down.
The new app update also adds 46 languages to the mix – so the rest of the world can enjoy Google Docs as much as all the English speakers do.
To grab the app, click here.