 Google Docs Now Available from Android Market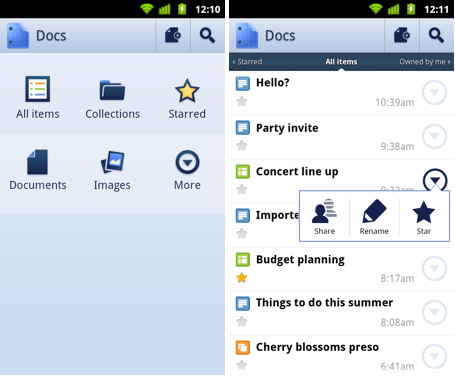 Since yesterday, owners of Android 2.1 devices and higher can download Google's own Docs app from the Market. Documents can now easily be created, edited and shared between any Google smartphone or tablet.
From the Market description:
Designed for Android to save you time finding your docs
Edits to your documents appear to collaborators in seconds
Make quick changes to spreadsheets
View your documents, PDFs, images and more.
Upload and convert files to the Google Docs format
Take a photo of printed text and convert it to a Google document
Share docs with your phone's contacts
Probably the most important points are: you can upload files and convert them into Google Doc files, and you can also take pictures of printed text and convert them into Google documents. The files can then be shared with anyone in your email contacts. Amazing.
Android Central has already made a video of the app in action:
The app is currently free (!)