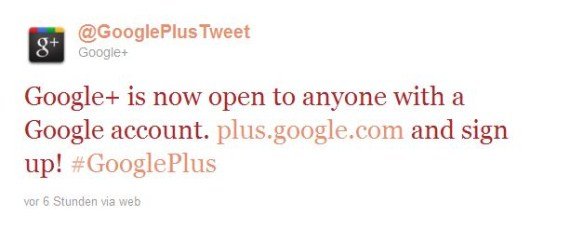 Google+ invites have opened and closed more times in the past week than a....oh, wait...I can't think of a non-sexual metaphor to put here.
Anyway, it looks like Google+ invites are staying open for a bit. As Google's Dave Besbris recently posted:
Hey Google+ folks!

As I bet you've noticed, we are facing pretty incredible demand for Google+ invites.

As Engineering Director of Google+, I wanted to take a moment to explain why we're growing the system slowly. First, we want to make sure our infrastructure scales so the service remains fast and reliable. Second, we want to ensure that bugs are fixed while there are still a relatively few people in the field trial.

Things are going well with the systems right now so we feel comfortable enough to open up invites for a brief period. Our goal is to double the user base in the field trial. (Sorry, we're not giving details about how many folks are in the field trial yet).

So, in a few minutes, we'll open up invites again.

We continue to throttle invites, so please don't mass invite folks as it won't work. If you invite a handful of your most important friends and family you're much more likely to get these folks into our system.

Thanks again for providing so much wonderful feedback!
So, there you have it! If you can't get in immediately, check back soon. And while you're at it, check out our Google+ Android app hands-on video, share your opinion on our Google+ thread and read our first impressions.