Google Maps 5.3 for Android Allows You to Big Brotherize Your Life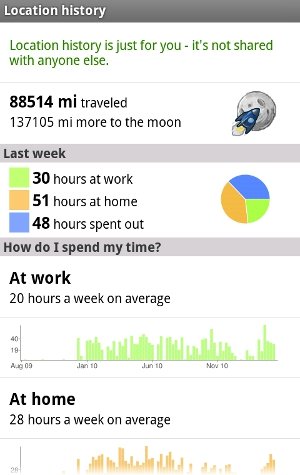 Well, okay, I think I'm being what they call in the journalism world, 'reactionary.' Perhaps even 'POLEMICAL.' It's just that whenever I read about another app that tracks your whereabouts, I can't help but think of those scary sci-fi films where the government is tracking Will Smith or whomever and he has to pull off his bug-device-filled-pants and climb the side of a building just to escape their prying eyes (yes, we get it Mr. Smith, you are proud of your legs and ab definition).
Truth is, the Google Maps 5.3 update is actually more about spying on yourself than the government spying on you. Ever wondered how long you really spend at the gym (not just how long it feeeeels to be at the gym)? Now you will be able to see how long you've spent there, and at other places like home, work, or out on the town.
(Hopefully, there won't be too many depressing trends in your life, like spending 12 hours in front of the computer).
Pretty graphs illustrate the time you've spent at different places and provide fun, useless comparisons like how much further you'd have to go if you were traveling from the earth to the moon. You can also 'check-in' at places like restaurants and rate them using your own criteria.
For those afraid of Big Brother, Google even writes in shiny green letters at the top of the screen: 'Location history is just for you- it's not shared with anyone else.' I'm gonna have to trust you on that one, Googlybear. Don't be evil.