Google Maps Mistake Leads Swarms of Vacationers to New Jersey Woman's Home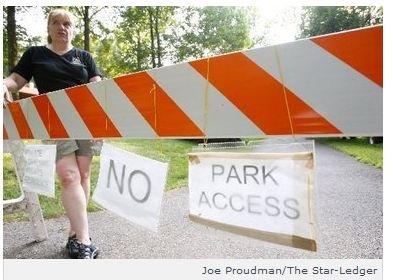 (Photo: NJ.com)
Folks are at the door, and they're not people you know.
No they're not Mormon missionaries but hoards of confused vactioners who think your house sits at the entrance to a tourist destination. This is what happened to New Jersey resident Laurie Gneiding, whose house somehow became listed on Google Maps as the entrance to a popular reservoir for Jersey residents looking to escape the summer heat (insert Jersey reservoir joke here).
Gneiding has put up four signs that say "No Trespassing," and "Private Road," and even spent $125 on an 8-foot-long barricade and yet still the visitors come to knock on her door. Sometimes they back boats into her driveway, and curse her when she tells them they're on private property!
Gneiding contacted Google Maps in June but has only received automated responses. She is, quite understandably, going insane.
What would you do in this situation? Install an electric fence? Buy a fire-breathing dragon? Or maybe create a Harley Davidson event and list Google's address on the flyer?
There's really no room for error in the field of cartography.