Google Mobile Search Gets Revamped with Integrated Places, Faster Search Recognition and Instant Previews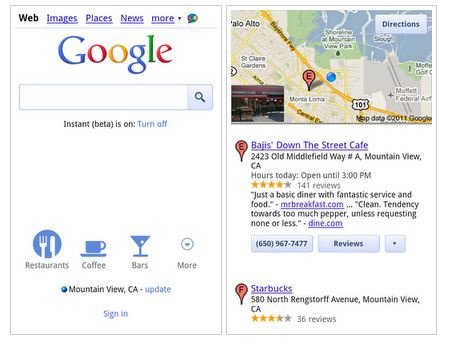 Google held a press conference yesterday to announce some nifty new features for Google Mobile.
Firstly, Google search has been fully integtrated with Google Places. Users can simply tap on buttons that say "restaurants," "coffee" or "bars" at the bottom of the Google search page and the search results will be shown on a map that includes your present location. As you scroll down the list of nearby places, the map will continue to hover at the top of the screen, showing you exactly where these places are in relation to where you are. Cool!
Google also announced faster search recognition software that will allow users to program Google to remember oft-used search words. Tapping a plus sign next to your query will store it in Google's memory bank, so you won't have to type the whole word the next time you search.
Instant preview will also be integrated into Google mobile, for quicker search results. This update will be incrementally rolled out to all users in the coming weeks, but all the other updates are now available on www.google.com on Android (version 2.2+) and iOS (version 4.0+) in 40 languages worldwide.