Google Still LOVES The iPhone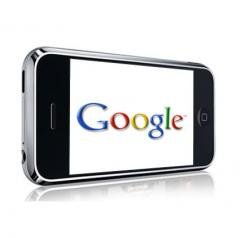 (picture from Mobile Entertainment)
And boy do they love it. In the midst of all the controversy and fighting about "which is better", a lot of people believe that Google would love nothing more than to grind the iPhone into dust. Sure, they are competitors in the mobile market, and sure, they want Android to sell well. But believe me when I say that Google LOVES the iphone, and the reason they love it can be summed up in one word: search.
Googles core has always been search, and while Android is becoming more and more profitable for Google, it's search that brings in the billions and billions of dollars of Googles yearly revenue. It's predicted that Apples iPhone sales are forcast to hit over 100 million users by early this year. So why is that good for Google? It's quite simple actually. Because a big percentage of those 100 million users are searching Google on their iPhones.
It doesn't matter if you're searching Google on your Android phone, tablet, iPhone, iPad, Blackberry, Nokia, Windows phone, or from a toaster...a big chunk of that is going straight to Googles pocket. Sure, there might be some additional fees they are paying to make that possible, but in the end it's money in the bank for the worlds most used search engine. Even if they have to spend a few hundred million to make that possible, it's no where near the billions they make back from that "investment". The revenue alone from 2011 from mobile search generated around 2.5 billion dollars for Google, and that number will continue to go up and up the more phones and tablets are purchased.
I always wondered why Google didnt charge handset makers for mobile licenses. They are essentially giving away a brilliant operating system for whoever to use. Handset makers can tweak it, skin it, and customize it in a big way if they wish to. This is actually a brilliant concept. As long as all those users are searching Google on their Samsung, HTC, Motorola, Sony, and LG phones/tablets, the money won't stop rolling in. And as long as Google remains the worlds dominant search engine, they will continue to profit from iPhone and iPad sales.
For all of Googles competitors...it's kind of scary, isn't it? :-D