Google Docs Storage Bumped Up To 5GB. Google Drive Launch Imminent?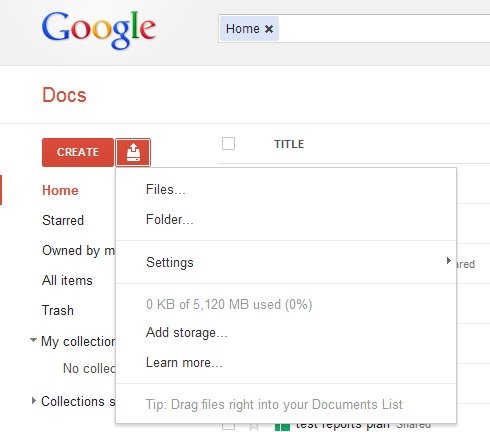 Last week we heard numberous reports that the launch of Google Drive would happen THIS week, and that Google would offer 5 gigabytes of free storage to anyone signing up. Well it appears that the launch could literally happen any day now, and that Google is prepping docs users by increasing the Google Docs space from 1GB to 5GB. The upgrade to GDocs has already started, and most of us around the office have already seen our own Google Docs accounts all of a sudden bumped up to 5GB storage.
Reuters are claiming that the Drive service could actually launch as early as today, but we haven't had official confirmation on exactly which date the service will roll out. The upgrade to Google Docs seems to be a gradual, so not all accounts will see the increase at the same time. We can't confirm that the upgrade of Google Docs is direcly related to Google Drive, but if Google is preparing to launch its Drive service this week, upping the free storage on GDocs certainly makes sense.
I'm certainly looking forward to the 10 free gigs of space that Docs and Drive will allow me to access from my Android phone and tablet, and with Dropbox and Box currently installed on my devices, I can already see that the battle for cloud storage supremacy is just getting started. Hell, there are actually so many choices when it comes to cloud storage that it's getting harder and harder to choose from!
As Google Drive will allow me to effectively use cloud services in perfect harmony with all the other Google services I use, coupled with the 50 free gigs I got for signing up early for Box, I guess I already know which service I'll be uninstallling. But what will also be interesting to see is which cloud storage service Galaxy S3 and Samsung phone/tablet users in general will choose, as it's also being reported that Samsung will launch it's own cloud service called "S-Cloud" at the Galaxy S3 event in London on May 3rd.
I guess in the end I will most likely be choosing between Google Drive because of Google services, Box because of all the free space, and Samsung S-Cloud (assuming both GNexus and GTab 10.1 can both access it) since both my phone and tablet are from Samsung.
**sigh** Decisions decisions....