 Google's Earnings Go Through the Roof: $9.72 Billion in Q3 Revenue, $2.73 Billion Net Income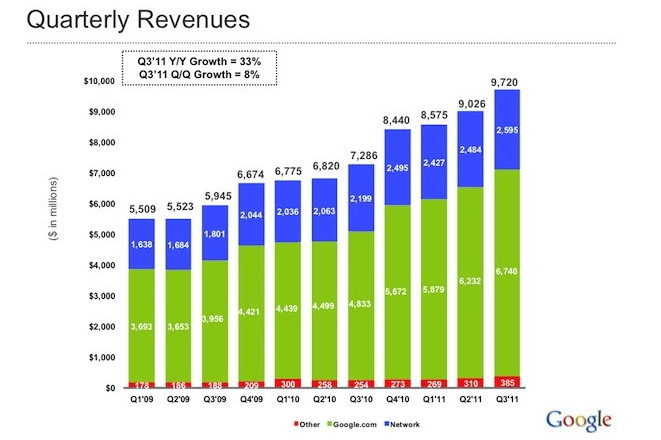 The U.S. government may be broke but Google seems to be doing just fine. The company's third quarter earnings are stellar, as expected, and have even beat expectations. Revenue has reached $9.72 billion, along with $2.73 billion in net income; up over half a billion dollars from a year ago. And, mind you, the company hasn't even released the Nexus Prime yet!
Google+ even made an appearance in the quarterly earnings statement: Google is mighty proud of its new social network which recently passed the 40 millionth user mark. The site was hyped beyond belief and then ignored as Facebook revealed update after update, but it seems Google+ has acquired its own momentum and will someday soon provide a treasure trove of user information Google can sell to advertisers.
One other notable item on the quarterly revenue report concerns the number of new hires at Google. Hiring is up 10% over the past three months, to a grand total of 31,353 full-time employees. That figure is in line with our impressions as of late, as we've seen Google swallow up more and more promising start-ups and bring them into the Googleplex campus, which is big enough for city-status these days.
Time to wish you'd bought stock 10 years ago...
Related: