 HTC Changes its Mind, Announces Gingerbread for HTC Desire After All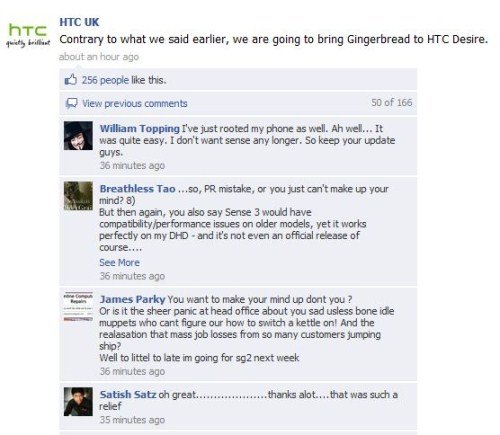 HTC has been flip-flopping over whether or not it would release Gingerbread for the HTC Desire, but now the company has just announced on its Facebook page that it will release the update.
For those keeping score, yesterday HTC said that there just "wasn't enough memory" in the Desire for Gingerbread to run properly. But suddenly there is! We don't quite know how that works, but we say good on HTC for listening to its hard core Android fanboys and girls.
This is just one more example of how instant Internet feedback is affecting the way companies do business with their most fervent fans. Just last week, HTC announced it would be unlocking its bootloaders due to "overwhelming customer feedback" and even Motorola seems to finally be responding to user complaints.
We just hope they release the update in a reasonable time frame and that there aren't any compromises in quality.