HTC EVO 3D Now Available for Pre-Ordering (If You're a Premier Customer)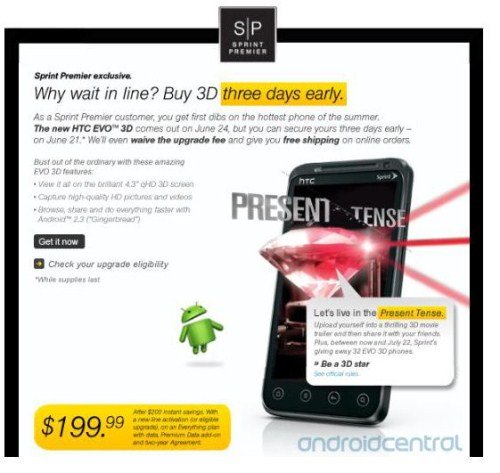 Hoity-toity "Premier" members of Sprint will get their hot hands on the newest 3D phone first, according to a just-released flyer. The EVO 3D is available now for Premier customer pre-ordering for a cool $199.99 -- quite a reasonable price, considering all you're getting.
How do you know if you're a Premier member of Sprint? Well, do you spend anywhere between $69.99 and $89.98 monthly for service? Do you receive promotional materials from Premier Sprint? Hell, I guess it'd be pretty obvious if you were Premiere or not.
The rest of us will have to wait a measly three days for the phone to be released before we can buy it. Wah-wah. But congrats if you fall into the latter camp.