 At the MWC in Barcelona, the rumors that circulated in the past month or so finally came to fruition. HTC announced and showcased it's first tablet, the 7" Flyer. At first sight, it looks like an overblown phone but underneath it all lies some pretty impressive hardware, with a decidedly odd choice of OS on top. Read past the break for details and a hands-on video (in German) of the device.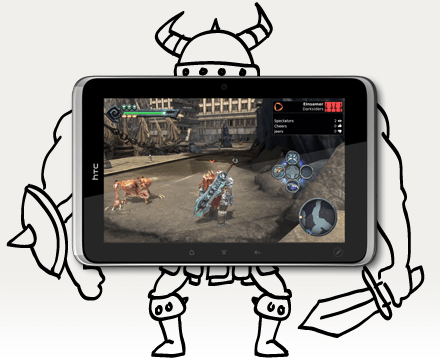 Just as the unconfirmed reports were predicting a few weeks ago, the HTC Flyer does not come with Honeycomb, but instead a heavily customized version of Sense (not called Sensation, as previously rumored) and Android 2.4 Gingerbread, meaning 2.3, also Gingerbread, is DOA. After playing with Honeycomb for a month now on the Nook at the same 7" screen size and 1024x600 resolution, I can't really imagine 2.4 being any more fun than on a phone. As you can see in the video below, HTC did a nice job of reskinning it, but the 3D caroussel stuff is decidedly unnecessary and the Clock widget takes up half of the first homescreen.
The hardware, on the other hand, is out of this world. It's got a 1.5 GHz single-core processor, 1 GB or RAM and 32 GB storage. It's also only 420 grams light and 13.2 mm thick, with nice metal accents, a 5 MP back camera and 1.3 MP front-facing. The curious part is that, from the official pictures, there seem to be dedicated buttons on both landscape and portrait that ligth up as you turn the orientation (not sure that was necessary - maybe it's just photoshop) and a stylus (!!!). HTC claims you can take notes in a bunch of applications and they get collated onto them, as well as draw and use it as input. There is also apparently a voice record feature on the pen that can sync to the device and get dropped into notes.
Quite possible the coolest feature yet, however, is the integration of the OnLive gaming service. For those of you unfamiliar with the awesomeness that is OnLive, it's a service that streams (i.e. you control the game through keyboard and mouse or controller, but a super specced server runs it for you) games to any netbook computer or above, without graphic requirements. Get yourself an OnLive controller and you can now play PC games like Just Cause 2 and Vin Diesel's Wheelman (not confirmed, but they're on the PC and Mac platform of the service) on your Android tablet. Take that iPad 2, Playbook and really, any other Android tablet so far.
Hidden in the overview is also the ability to print over WiFi, though it's unclear what models are compatible and how it works (maybe it's built in through Google, like GMail cloud print). If the 7" Flyer rocks your boat with its specs and you're not disappointed by 2.4 with Sense vs. Honeycomb, pray that pricing for the Flyer isn't as catastrophic as for the Xoom and enjoy Fabien's video below (in German):