 HTC Germany suggests June ChaCha launch
After being sued by Q&A site ChaCha for the name, HTC will still be releasing the QWERTY Facebook-centric ChaCha and it may come sooner than you think. A flyer in Germany suggests that June 18th is the day the magic happens. Read past the break for specs, pictures and a video.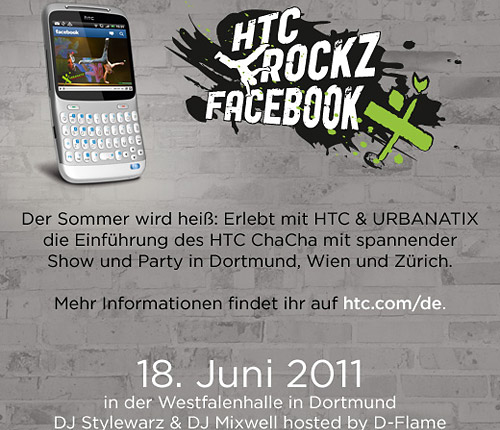 The ChaCha is a typical candybar QWERTY phone with a 2.6" touchscreen at a lowly 480x320 resolution. Rumors have it running a 600 MHz processor, but with 512 MB RAM (unlikely, I think). It's got Gorilla glass, GPS, micro-SD support for up to 32GB (to supplant the 512 MB onboard, supposedly) and comes in at a cool 120g and under 11mm thickness.
The cool part is that it's got a dedicated Facebook button to let you share things you see more easily. It may not be the high-end phone of your dreams, but it's small and light enough for texting crazed teens to keep in their hands at all times. Also, it's supposed to ship with Gingerbread 2.4 (though since 2.3.4 just launched, that's also more speculation than anything). Below a few more shots of the device: