 HTC Now the World's Third Largest Smartphone Maker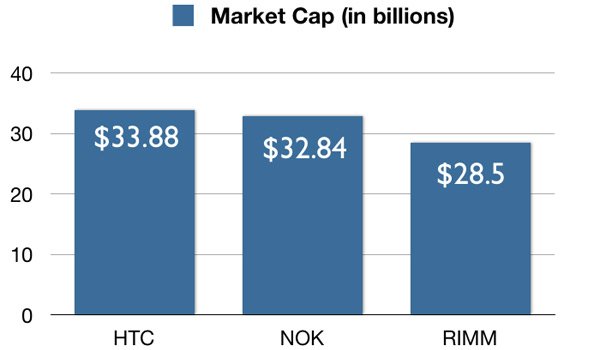 Android is now poised to become the leading phone operating system, and it's taking HTC along for the ride. Bloomberg writes that HTC's stock has risen 33% this year, while Nokia's has shrunk by 19%. Spurpassing Nokia means that HTC is now the world's third most significant smartphone maker (behind Apple and Samsung).
Why has HTC been successful?
Users crow about their phones' dreamy interface, and a design distinctly different from Motorola, Samsung and Sony, but the real reason is likely the company's smart strategies. HTC designed the world's first Android-based phone for T-Mobile in 2008, and before that spent 11 years behind-the-scenes as a little known contract manufacturer for the big boy phone companies.
The company used that time to study the design of smartphones and when Android phones became ubiquitous, HTC was better prepared than most to adapt to market changes. A good example is their recent release of the world's first 4G smartphones for Sprint and Verizon.
While HTC currently makes phones for Android, the company has also expressed interest in creating their own operating system. But they'd have to find hardware partners, software partners, and content partners to do so.