 HTC Sensation (aka Pyramid) Will Get a 1.2 GHz Dualcore Snapdragon Processor
HTC's London press event is later today but Qualcomm has already let one cat out of the bag: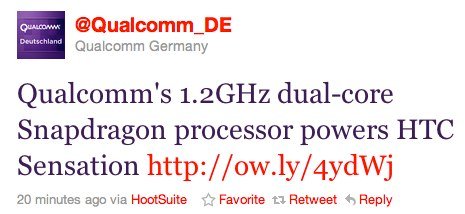 Smart marketing or bitch move? We're gussing HTC is none to pleased about this early revalation. There will likely be plenty more leaks later today (keep you posted) but for now, those wanting to brush up on their Snapdragon knowledge should check out the cutesy video below featuring an engineer and a gaming grandma
That's one fast chip running on HTC's flagship device. How sensational...we just wish the ad had showed a bit of screen action.
What do you think of this early leak? Does it make you more likely to buy the Sensation (aka Pyramid)?