 HTC: "We're Reviewing Our Policy Around Bootloaders"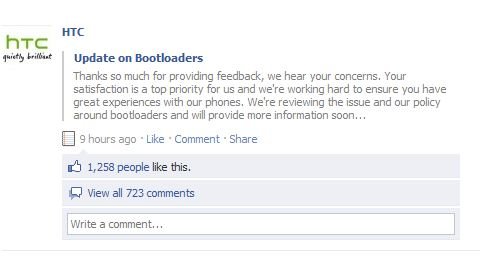 After the internet cried out for HTC to unlock the bootloader on the Sensation and Evo 3D, the company has issues an official response on their Facebook page:
Thanks so much for providing feedback, we hear your concerns. Your satisfaction is a top priority for us and we're working hard to ensure you have great experiences with our phones. We're reviewing the issue and our policy around bootloaders and will provide more information soon. Thank you for your interest, support and willingness to share your feedback.
Comments on the post by HTC range from hopeful ("PLEASE, PLEASE UNLOCK AND MAKE IT QUICK!") to confused ("What is an unlocked bootloader?") but one thing is certain: folks are hightly anticipating the next update from HTC.
A petition to unlock the bootloader has already collected 4,710 signatures, so you better believe HTC is feeling the heat. But, likely, the decision doesn't rest soley in their hands; we're guessing they locked the bootloader under pressure from carriers.
How the company will balance pressure from carriers and customers remains to be seen. But the web has spoken, and it seems HTC is actually listening.