[Hands-On] Samsung Galaxy Tab 10.1 vs. Eee Pad Transformer in Video Smackdown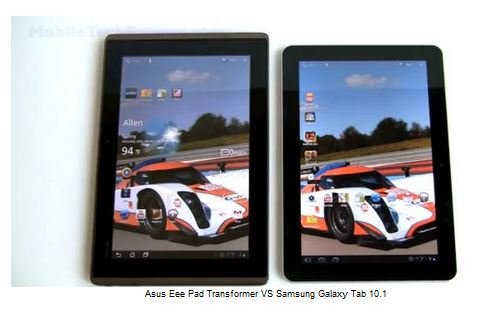 Wondering whether to buy a Galaxy Tab 10.1 or an Eee Pad Transformer? We just found a pretty damn thorough hands-on video that compares the two devices. The video compares:
Device thickness, weight, feel
Display quality
Processor speeds
Ports
Accessories
Firmware
Video / sound quality
The reviewer concludes that the beauty, in this instance, is truly in the eye of the beholder. Those looking for a more functional tablet experience that could rival a laptop would do well with the Eee Pad, while those after a beautiful device with a stunning screen would best go with a Galaxy Tab 10.1. The reviewer says the Galaxy Tab 10.1 is hobbled, much like the iPad2, with limited opportunities for customization, which might put off some users.
What do you think? Which device would you prefer?