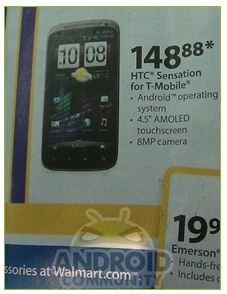 (Grainy picture, lovely price)
We knew that the HTC Sensation was coming to T-Mobile for $199 after mail-in rebate for a while now. What we didn't realize is that the corporate bohemith WalMart is offering the device for just $148.88 without a rebate (!) This means that you can walk into the Mart and spend a cool $100 less on your Sensation than at the T-Mobile store. Now you really have no excuse. Yeah, yeah, we sound super capitalistic here, but just buy it already.

(Ka-ching!)

In related news, we're hearing reports from TmoNews that some WalMarts are letting go of their Sensations early. We're not sure which ones are and which ones aren't at this point, but why dontcha visit your local store and let us know how it goes.