How Much Mileage Do You Get Out of Your Battery? These Phones Last Over a Week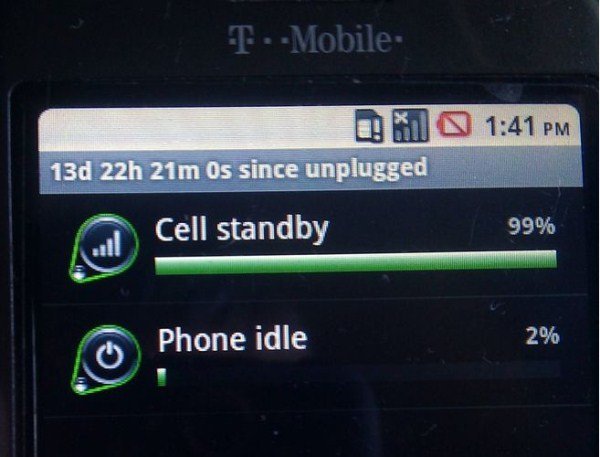 Up on Reddit today, a number of folks have been posting the longest times their batteries have ever lasted. If you're happy to get a day out of your device, consider the fact that, in standby modes, some of these users have been able to go for a whole week without a single charge.
User axe319 seems to have trampled the competition. He posted a screenshot of his G1 battery display which reads that the phone had lasted 13 days, 22 hours and 21 minutes since his last charge (the phone was in Airplane Mode, natch). Another user by the name of Tazdeviloo7's Nexus S 4G lasted 11 days, 19 hours and 45 minutes.
So, besides switching to Airplane mode, what are these users' secrets?
Well, some of the users posting the most impressive battery results use programs like SetCPU to "underclock" their CPU, allowing the CPU to drain less battery as it runs. It also seems that the Nexus line of phones are lasting the longest in these battery tests. One user also recommend a program called "Battery Calibration" which shuts off the phone when battery life reaches 1% instead of 20%, to extend the reach of your battery.
Granted, it's not too exciting to have your phone switched to Airplane mode all day long, seeing as how you can't, uh, you know, take calls, but I'm still impressed! How long does your battery last in Airplane mode? Other modes?