[IFA] Day 1 In Review, Day 2 Preview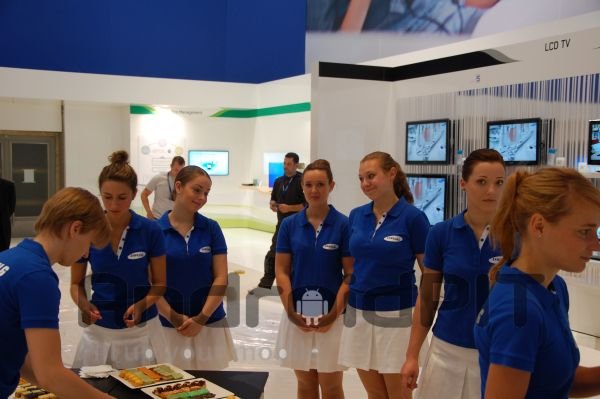 IFA'S press day went off without a hitch. Its my first IFA so getting a backstage pass to the warm up was the chance of a lifetime for me, to get a peek behind the curtain before this years event is open to the public. I have to admit I was surprised to see the carpenters and builders still hammering away long into the night to prepare Berlin's convention hall for the expected 200-250 thousand visitors expected to take in the worlds largest electronic show over the next five days. With IFA officially getting underway in the next minutes, I thought it would be a good time for a status check. What have we seen so far? And what are we at AndroidPIT looking forward to for the next days.
In the run up to this year's IFA we at AndroidPIT got a sneak peek at a couple of new Samsung devices (The Samsung Galaxy Note and the new Galaxy Tab 7.7) Both devices displayed the streamlined elegance I've come to expect from the latest generation of Samsung products and prove that, while Apple may have a copy right or two in their arsenal, they can't copyright style. At the exclusive prelaunch event on Tuesday the bloggers from our news desk only got a couple of minutes to explore the features of the new devices and I'm hoping to get ahold of someone, who can show me exactly what the new devices can do. While I admit the stylus on the Galaxy Note felt great in my hand and using it was a breeze, I'm still not entirely convince that a stylus is the way to go for most consumers. Hopefully today someone from Samsung can prove me wrong.

If you watched our LG-3D video yesterday you probably already know that LG brought all the bells and whistles from Korea they could. Their exclusive hall is pack floor to ceiling with the latest in 3D gadgets and even if you've never been a big fan of the technology, the shear amount of 3D cellphones, TVs, computers, game consoles, etc. on display is impressive. My boss got to play around with their new 2D-3D converter yesterday and I'm hoping to give it a look myself. I've never really like 3D in cellphones (I get an instant migraine from staring at the oddly flickering screens used by most glasses-free 3D displays) but I've been told that the latest generation improved the viewing experience for people, like me, who need to man-up a little.

HTC and Sony are also high up on my list of booths to visit, but not just because they should have more than a couple great devices on display. Their PR events in Berlin have generated quite the buzz around town and at the end of the day, that's what makes the IFA really exciting for me. As I wrote above organizers are expecting 250,000 tech fans to descend on Berlin's convention center this year and you can almost feel the energy in the air. The doors are open now and I can't wait to get down into the convention halls and see what people are saying about the new Android devices on display. I can hack out as many blog posts as I want to but no matter how often I update this blog, what really matters is your opinion, the opinion of consumers in general. And there's no better place to get a feel for what Android fans want and where the market is going then talking to the thousands upon thousands of them at this years IFA convention.