In Russia Windows Mobile's Last Stronghold Goes Android Whereas Windows Mobile has never really been in the running against iOS and Android in most parts of the world, for a very long time Russia remained a country with a massive following for Microsoft's mobile OS. Especially within Russia's business community, Windows mobile phones managed to maintain a lion's share of the market all the way into the 1st quarter of 2011. But after 10 years of quasi-total control of the market, Windows Mobile has been handed a lethal blow by the dramatic rise of Android users in Russia. With much saddness and regret, the bosses of Russia's Microsoft division have been force to admit defeat in one of the last holdovers of the Windows Mobile empire.
Some fascinating numbers have been revealed by Russia's leading market analysts: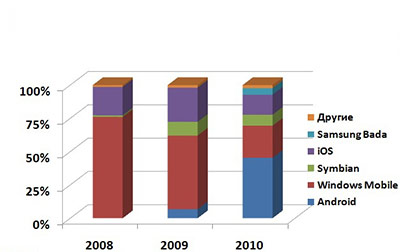 As you can see on the graph, the number of Windows Mobile users among professionals has fallen dramatically from around 75% in 2008 to just 20% in 2010. Judging from the latest numbers in 2011, Windows Mobile's share has fallen even lower giving Android a solid and impressive lead. So what could have caused this sudden turnaround? It's all about money. As in other developing countries, Russians are looking for affordable smartphones that are both functional and within their price range. For most businesses, iPhones are totally out of the question given their hefty price tag. As more and more budget Android phones are flooding the Russian market, Russians are switching over to the little green robot en masse. Given the fact that Windows Mobile could barely manage to release 5-7 average devices in 2010 and hasn't released anything new in 2011, it's no wonder that Android is gobbeling up the Russian market at such an impressive rate.
So with this piece of news we can finally say "Amen!" and proclaim Windows Mobile as dead and obsolete. There's is some potential for change given the fact that Microsoft devices compatible with Windows Phone 7 have yet to be released. But with all of the lost momenum, it is highly doubtful that Microsoft will be able to lure back its former customers back to a Windows phone after settling for Androids.