 In Which We Try the Confession App for Android...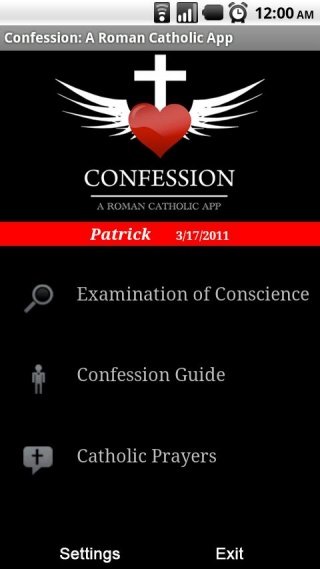 Try to wrap your head around this one: the "Confession" app for Android is not to be used ironicly. It is, in fact, a serious attempt on behalf of a few Catholics to marry their faith with their digital lifestyle. It is not an app one confesses to; rather it is an app to be used before confession...a checklist of sins and transgressions.
The app was created to keep track of your sins so that you don't forget them before your actual sacrament.
What appears when you open the app is a menu containing the headlines, "Examination of Conscience," "Confession Guide," and "Catholic Prayers" in subtly gothic lettering across a black background and underneath the Confession app's logo: a cross rising over a heart with angel wings. The logo reminds me of the kinds of tattoos bikers get. Or maybe the kind that grace the posters of Jesus rock bands.
"Oh hell, let's get to the point," I think, and click "Examination of Consciousness." It sounds almost like psychotherapy, and it has been a while since I was last analyzed.
What follows are a list of commandments, in pleasant Italic lettering. First: "I am the LORD your God: you shall not have strange Gods before me." A little judgy, what with that word "strange," no?
I click on it, anyway.
What follows are a list of questions, demanding to know my devotion to god. Clicking a red box next to them means I've failed. I click every one. Twice.
Already bored, I move on to the 10th commandment.
"Am I Greedy and Selfish?"
Sure.
"Am I jealous of what other people have?"

Honestly, sometimes yes.
"Are material posessions the purpose of my life?"

No, yes, leave me alone!
What is this, Oprah's confessional couch?
I give up, then scan the rest. Yup, there's the one about abortion, and the one about homosexuality.
For some reason, I don't find it comforting that as times have changed and phones have evolved, the Catholic church has not. So it's a bit strange to see the two married in this app.
When you click "confession guide," a few text boxes are displayed, including one that reads, "Tell the priest how long it has been since your last confession. Next time we will calculate this for you."
Suddenly, a blue text box flies on to the screen, like when your WinAMP has suddenly crashed:
"St Catherine of Siena: If you are what you should be, you will set the whole world ablaze!"
Comforting? Not so much. Who knows what I "should be"? Not my phone, and certainly not the church.
I close the app and play some Angry Birds to de-stress.