 [Infographic] Android Market: Evolution Of A Success Story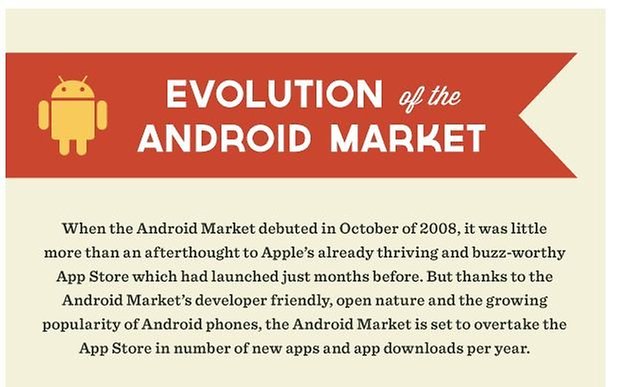 Google's little green OS has been on a steady path to market dominance since its launch back in 2008. While people like to measure Android's success on number of sold smartphones or total market saturation, if you really want to know just how much people like to use their favorite bits of technology, there's no better place to look then the Android Market. With 2011 predicted to bring 8.1 billion downloaded apps, the Android community is showing no signs of slowing down.
With around 200 million active units and 500,000 apps, the Android ecosystem is unrivaled in its size and depth. Through it may not have the same profile of its iOS rival, it still offers a platform for developers and consumers alike that is both profitable and convenient. If you're like me, you may use the Android Market everyday and still not know as much as you think you do. Are there more free apps or pay apps in the store? What apps are most profitable? Do Android developers actually make money off of free apps? The nice folks at intromobile have slapped together a nice infographic detailing the high-lights of the Market's development. Enjoy!

Related Infrographic News: