 [Infographic] "Android Orphans": Fragmentation, Visualized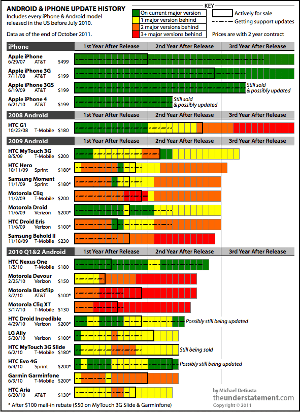 We all know that one thing Android devices seem to lack is reliable updates to their software, but just how far do devices lag behind the current version of Android? Well, one web designer named Michael DeGusta has done a pretty outstanding job charting the fragmentation of Android by graphing the frequency with which Android devices received an update to their OS 1, 2 and 3 years after their first release.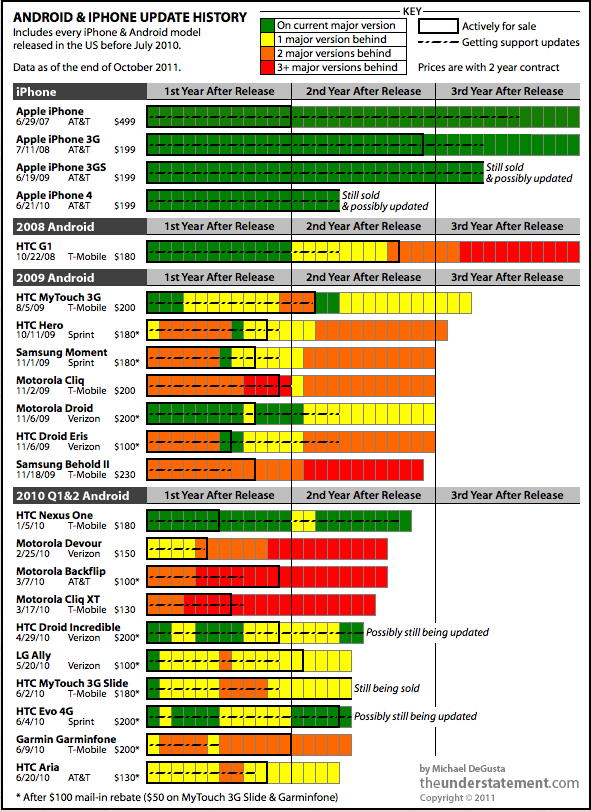 The results show that the majority of Android devices are never officially updated by carriers after a year from date of purchase, while some never received a current version of the OS to begin with. Here are a few of DeGusta's bullet points to drill home the fragmentation debate:
7 of the 18 Android phones never ran a current version of the OS.
12 of 18 only ran a current version of the OS for a matter of weeks or less.
10 of 18 were at least two major versions behind well within their two year contract period.
11 of 18 stopped getting any support updates less than a year after release.
13 of 18 stopped getting any support updates before they even stopped selling the device or very shortly thereafter.
15 of 18 don't run Gingerbread, which shipped in December 2010.
In a few weeks, when Ice Cream Sandwich comes out, every device on here will be another major version behind.
At least 16 of 18 will almost certainly never get Ice Cream Sandwich.
Fragmentation stinks because it results in newer software being withheld from current smartphone owners. It also constrains developers as it makes it hard for them to decide which platform to develop for when certain ones – like Gingerbread – will likely never see mass adoption.
So why don't phones get updated when it's obvious from mods like Cyanogen that their hardware is capable of running a different OS? Well, one reason might be that Android has to go from Google to the device manufacturers to the carriers to the devices wheras iOS is released directly from Apple to the device. You could also look at it cynically and say that hardware manufacturers have little incentive to provide updates to their devices; then they'd be less likely to sell the next new device.
Related:
A Critical Look at the Android Fragmentation Debate
86% of Developers Unhappy with Android Fragmentation

A strategic look at Google's move against Android fragmentation