 [Infographic] Evolution Of Mobile Phones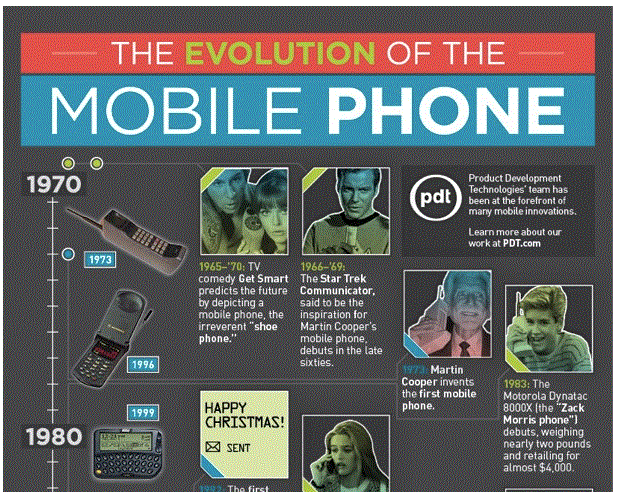 Recently, I was sitting down for a round of Dead Space on my Xperia play and suddenly it hit me. "I'm living in the future." When I was growing up my dream was to have a Playstation 1. I saved and saved and saved but my parents never would let me buy one. Now the thing I coveted as a child is built into my cellphone, almost as an after thought. Cell phone have really come along way since their invention almost 40 years ago. But how did we get from chunky phones with rotary dials to phones I can update this site from? For all those who have ever asked themselves that, we present the answer in handy info-graphic format!
I'll come out and admit that I grew up a trekkie, so I'm kinda happy to see James Kirk getting his due as the inspiration for the first generation of mobile phones. The fictitious starship captain's influence also helped in the development of the first flip phone including the Motorola Razor.
But what really is amazing about the graph is the development that has taken place in the last decades. Forty years ago, cell phone were reserved to the realm of science fiction and even then they could only dream of basic communications devices. Now the functionality built into the most basic smartphone equals that of the most powerful computers that the dreamers of yesteryear could conjurer up. It's almost worth it to take a moment and ponder what strange devices we'll be using to expand our limited perception of the world in another 40 years.