[Infographic] The Future is "Frictionless"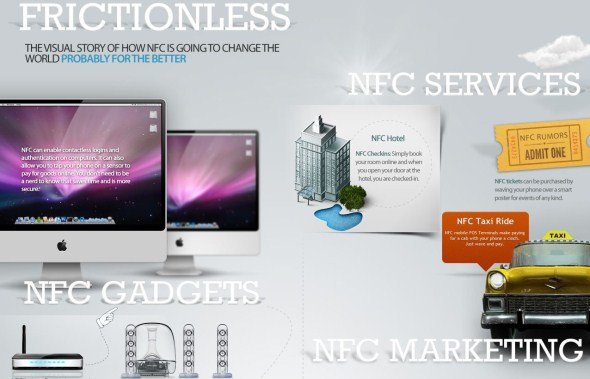 NFC hasn't officially landed yet for most smartphone users but that won't stop us from dreaming about how it will change our world forever. Imagine checking into your hotel, hailing a taxi, and paying for film tickets with your phone. NFC is being built into many upcoming mobile phones and, according to some projections, the number of NFC-enabled phones will reach a whopping 863 million by 2015.
Did you know that NFC is going to save the environment, as well? Yup, that's right. Over nine billion trees are cut down every year just to create paper receipts, and over 115 billion gallons of gas are needed to print those receipts. Meanwhile, 150,000 barrels of oil are needed to produce credit cards. Eliminating the need for both receipts and credit cards will significantly cut down on these wasteful expenditures.
It's fun to think about, and to help us visualize all its wireless goodness, NFC Rumors has created a super big infographic visualizing how NFC will be integrated into our daily lives. Check it out below: