[Infographic] The Psychology of Angry Birds Addiction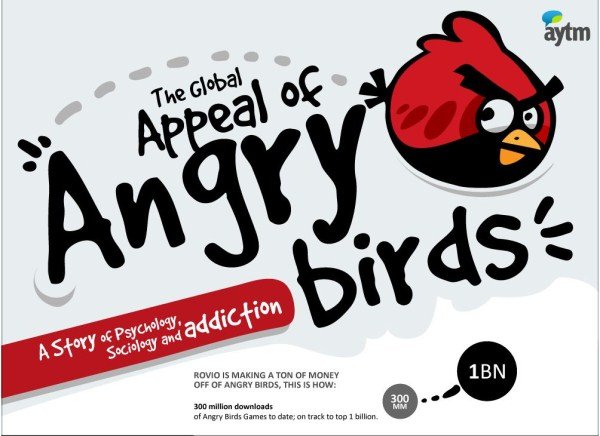 (So, so angry.)
The world's most distracting past time, Angry Birds is also one of the most-played games in history. Over 300 million Angry Birds games have been downloaded so far, although that number is expected to one day top a billion.
If you're a fan of Angry Birds and infographics, I think you'll dig what we have for you today. It's a visual representation of the psychology, sociology and addictive qualities of Angry Birds. Although the visuals are based on a rather small sample size (just 1000 players), its findings seem consistent with my assumptions. Namely, that Angry Birds, while perceived to be a relaxing game, can actually stir up feelings of anger, irritability and anxiety. What I didn't previously realize was that, bizarrely, those feelings seem to intensify if users are single or unemployed. So, if you don't have a girlfriend and are cruising through craigslist looking for a gig, don't expect 30 minutes of hurling pixelated birds at wooden planks to make you feel better. You may, in fact, feel worse.
Other fun facts:
Players have hurled more than 100 billion virtual Angry Birds; in comparison, there are an estimated 100 billion real birds alive on Earth.
Rovio is valued at one billion, the same valuation as JetBlue.
Single people are more likely to see their mood deteriorate while playing the game than married people.
12% of users have deleted the game in order to keep them from playing it because it is so addictive.
Check out the chart below!