 [Infographic] This Is What a Patents Disaster Looks Like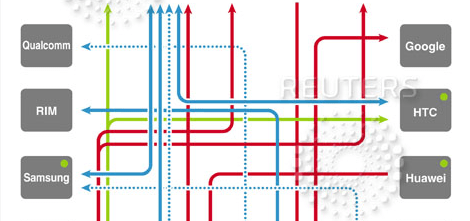 This whole patent scandal has been a total chaotic mess. It seems like just about every single major player on the smartphone market has gotten their hands dirty in legal battles over patents. In fact, the legal proceedings span across many different companies, countries and time zones. To bring some order to this jumble, Reteurs has compiled a small visualization of all the current legal battles. If you thought understanding the New York subway was hard, try figuring this one out.
A total of 20 companies are part of this thorough infographic that gives you a better picture of the whole situation. If you take a moment and look closely at the picture, you'll notice a couple of interesting things:
Most of the arrows lead to Apple - the most legally active company
None of the Android companies are suing each other
Everyone is suing Apple and Apple is suing everybody else
So I'l leave it up to you to decide who the main culprit is in all of this.
Related:
Googerola Or Motoroogle: Out Of 17,000+ Patents Only 18 Are Useful

Google and Microsoft Duke it Out Over Who's to Blame for the Patents Mess

Google Behind Closed Doors: Why There's Reason to Worry About a Google-Motorola Monopoly