 [Infographic]Top 20 Android Apps: Women Love Their Facebook, Men Actually Ask For Directions

Want to really know what the top used Android apps out there are? Not just the pure number of downloads that sit around home-screens begging to be clicked on, but rather the apps that are actually used by the legions of Android fans all over the US? Well then you're in luck. The good folks over at Nielsen wire have prepared a handy little infographic that brakes it all down in a handy visual fashion.
Over the last several months they monitored Android users "active use" of app. Meaning, they actually looked to see if an app was used with in a 30 day period to determine it's "active reach" and by extension how popular the app is. While the market does show how many downloads an app may have that isn't a direct indication of its popularity. If an app is downloaded and never used then it's nothing more then a waste of digital space and has no real influence on its users.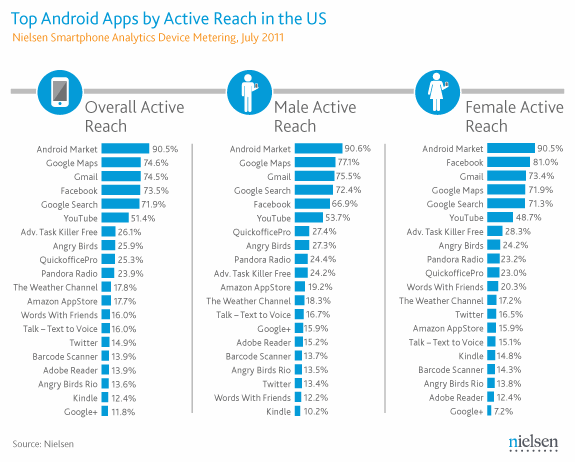 Looking over the top apps there aren't a whole lot of surprises; men tend to favor functional apps, while women give a slight edge to social media apps. But what I think is really the take-away information of the graphic is that men and women have similar interests regarding their smartphone usage. Android producers, like all tech communities in general, are still obsessed with the notion that women somehow need different devices and different applications to pander to the fact that they have ovaries... sorry, I mean more refined tastes. What this generally means is they scale back the tech and try to distract from the reduced hardware and software options with a few nice colors and softer design elements. While this "distract 'em with something shiny" marketing approach may have some success, this graphic does help drive home the fact, that men and women in the Android community are equal players with similar interest and should be treated that way.