Is Republic Wireless's $19 "Unlimited Everything" Plan a Scam or the Real Deal?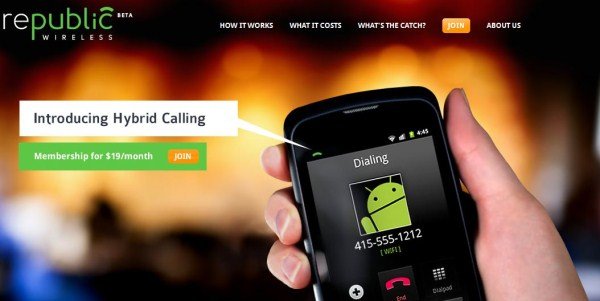 The Android blogs are abuzz today with news of Republic Wireless's new unlimited everything plan which is being offered for the low, low price of $19 a month. For that price you get unlimited texting, calling and data.
I know what you're thinking: there's gotta be a catch.
Well, there is. The service only works so long as you use a Wi-Fi network for the majority of your calling, texting and data desires. Republic's mantra is this: since Wi Fi can accomplish everything better, faster and cheaper than cellular, let's try and cut the cellular network out of the picture as best we can. So when a WiFi connection is not available, you can use cellular for your internet and calling needs, but only up to a certain limit. Specifically, you can can consume 550 minutes, send 150 texts and download 300 megabytes. After that, Republic will "contact you" about lowering your usage.
So, essentially, Republic wireless isn't offering an unlimited plan. Rather, it is a fancy-worded 550 minute plan with 300 megabytes of available data. The bonus, however, is this: you can finally receive calls over Wi-Fi without the hassle of a seperate account and payment system. No more loading up dollar after dollar on your Skype account to make phone calls over Skype. No more worrying about whether or not your friend has Fring and can make calls to you. Your phone automatically switches to WiFi when in the vicinity of a WiFi signal and then you can continue talking as much as you'd like.
Tech Crunch practically called the service revolutionary, but I wouldn't go that far. For one, it won't make economic sense for anyone who travels a lot, unless every hotel you're staying in happens to have free WiFi. It also won't work with folks who have DSL (unless they decide to upgrade tp WiFi). The only phone offered at the moment is the LG Optimus, so if you want to use your Samsung Galaxy S2 over this network, you're SOL.
However, I will say this service has promise. Certainly it makes more sense to make calls over WiFi if your work and home environment features the service. Many casual internet users will probably be fine with the 300 megabyte cut-off. And you really can't beat $19 a month.
What do you think? Does Republic Wireless's $19 unlimited service sound like a scam or the real deal?