 Jonathan Franzen: Why Cell Phones Are Turning Us Into Cowards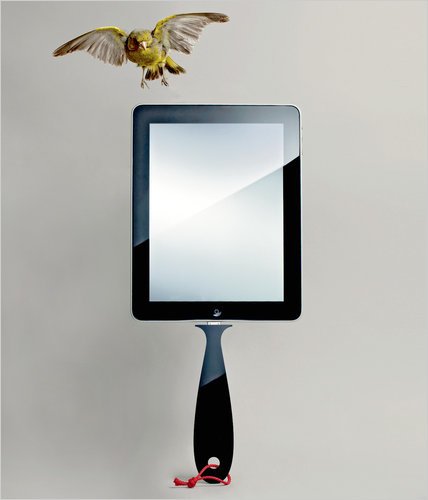 (Photo: NewYorkTimes.com)
Before I was an Android blogger, I read a lot of Jonathan Franzen. And now Jonathan Franzen has gone and published an opinion piece in the New York Times that seems to address the world's obsession with Android. It's quite the bewildering loop.
Why do we love our cellphones so? According to Franzen: because they are sexy beasts that don't raise their voices, are replacable with no hard feelings and make us feel like gods. Take it away, Franzen...
...our technology has become extremely adept at creating products that correspond to our fantasy ideal of an erotic relationship, in which the beloved object asks for nothing and gives everything, instantly, and makes us feel all powerful, and doesn't throw terrible scenes when it's replaced by an even sexier object and is consigned to a drawer.

To speak more generally, the ultimate goal of technology, the telos of techne, is to replace a natural world that's indifferent to our wishes — a world of hurricanes and hardships and breakable hearts, a world of resistance — with a world so responsive to our wishes as to be, effectively, a mere extension of the self.
Franzen likens the technological extension of self to a hall of mirrors -- reflecting and refracting the self we we think portrays us in the best light. This is also a self that is often falsified, in the desperate hopes of being "liked." But, as Franzen argues, real love isn't about being "liked" but about exposing your innermost self, faults and all.
Bringing this back to Android, I think one of the platform's biggest selling points has always been customization, allowing the Android user the ability to truly reign supreme over his or her device. And I think that part of why we get off on this power role is because we do have such little control over things like the weather, or how our loved ones see us. Android allows us to create, almost Frankenstein-like, a being that is completely responsive and in love with us.
But, compared to the iPhone, the beauty of Android is its ugliness. Android isn't as obsessed with being loved as Apple. It doesn't come with an operating system it thinks is perfect. It doesn't try to wow us with commercials that advocate for a certain way of using its software. Android is still a blank slate, with which one can create anything. That's a much bolder way of creating a piece of hardware, and it's Android's boldness that is winning the system so much real love.
It could very well be true that our technology is turning us into narcassists. And the race to be "liked" constantly on Facebook may also be turning us into cowards. It would be a lie to say that cell phones don't contribute to this narcassistic loop. Certainly, Android phones are more responsive than girlfriends.
But there's also a lot of messy, ugly, risky creativity that's happening because of platforms like Android and even Facebook. And I think, actually, the transparancy of the Internet could be creating a more honest culture, one that makes risk-taking more attractive. Certainly taking a look at all the apps that have been developed for Android since the platform's launch just a bit ago reveals a culture of risks that isn't just about satisfying every need of the consumer, but about innovating and even changing our ideas about reality. And that culture is something Franzen doesn't seem to get.