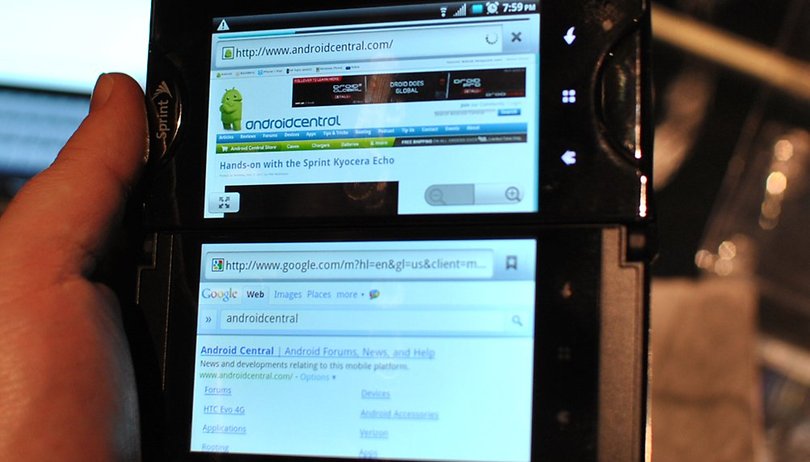 Kyocera Echo brings 'true' multitasking to Android
You know what's better than running multiple apps at the same time, but having to switch between them ? Having multiple apps open side by side or on top of each other. The Kyocera Echo does the former in an interesting manner, but not entirely without flaw. Read past the break for specs and a video review of the new multi-screen Android phone that'll hit US network Sprint at an undisclosed time.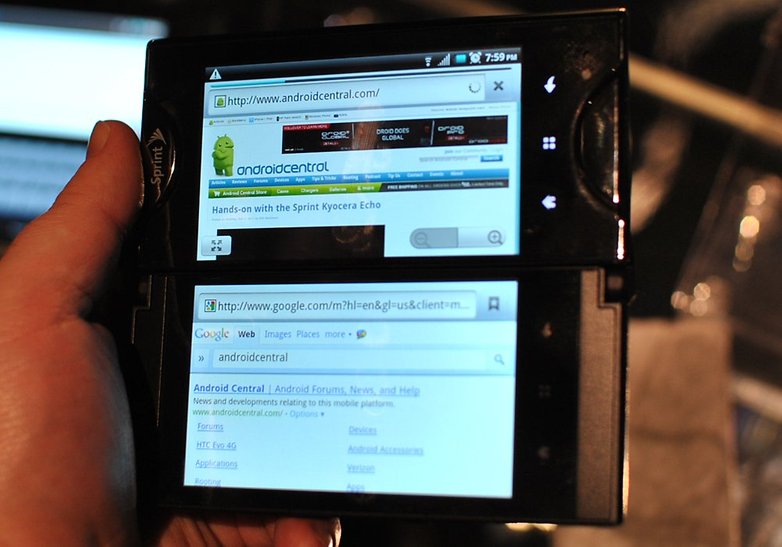 Now, I doubt there's a huge market for a phone with two screens, especially since the specs on it are so last year, but it's an interesting concept that could find its way to a few interested users. It's got dual 3.5" screens, each with 3 buttons, 512 MB of RAM and a single core 1 GHz Snapdragon processor. In close position, the top screen covers and protects the bottom one, with a Nokia-esque hinge design allowing for the full 4.7" screen to be unveiled. There's a slight bezel between them, but it looks fairly useable still. Not sure how well designed the hinge could be designed since I barely ever hear anything related to Kyocera, but it's very much an early build so I won't diss them til I see reports on the final build.
The really cool part, however, is the fact that you can use the two screens individually. You can have two apps open, each on its own screen with its own controls; you can have one app open on both screens for a massive 4.7" screen, or you can have different panes on different screens. In the video you can see two interesting instances where it's similar to Honeycomb content management: you can have the message list on the bottom and the message text on top, or you can have a full screen keyboard on the bottom and a full screen email reply window on top. Pretty awesome, actually.
Not sure if it's really worth it, considering that, if it's even remotely light, battery life will be horrendous, and if battery life is passable it'll be a brick, but some might like it. If you hit the review over at Androidcentral, you can see more pictures, one showing off the 20 mm or so thickness and the video they shot is embedded below for your viewing pleasure:
Picture: Androidcentral.com
Video: Androidcentral.com