Liberal News Junkies, Rejoice! Guardian Releases Android App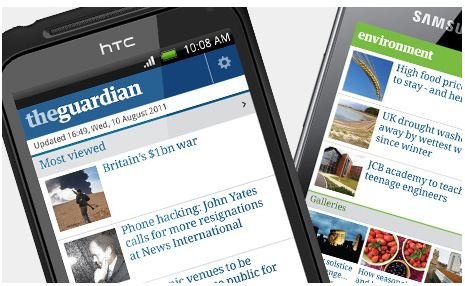 (Photo: guardian.co.uk)
The Guardian, bastion of liberalism, breaker of the News of the World scandal and reporter of all things worldly, just released a new app for Android.
"ANOTHER news app for Android? Big whoop!" you say? Well, the new app offers a daily download schedule so you can easily read offline, which I think is a quite neat idea. Basically, you can schedule the app to download all your favorite stories before you step on the subway and bus and easily read the content there without using up precious data.
Other features include:
Download your homepage and favourites for offline reading with the touch of a button, or schedule a daily download for a time that suits you
Browse audio and video content
Save contributors, topics and sections to your favourites
Add favourites to your homescreen with an expanded view or link
Swipe through stunning full-screen picture galleries
Share articles and galleries using the Android share menu
View content in portrait or landscape orientation
I've always been a big fan of the Guardian's international coverage and I also recommend checking out their film reviews. I'm glad the app will allow users to easily customize their homescreens so they can pick the kind of coverage they most want to see. It sure beats scrolling through an unsightly RSS feed (which is what the mobile version currently looks like).