 MMMMMM. Reviewing the Most Delicious Cooking Apps for Android – Updated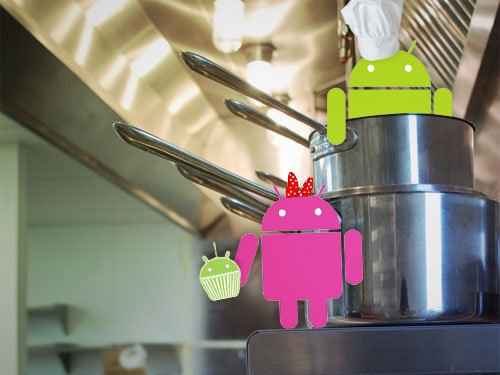 (Picture: Lifehacker.com)
Some Android cooking apps create recipe-based shopping lists at the click of a button while others offer a massive recipe database. Thankfully, a few of the best cooking apps for Android are completely free. So before you shell out a few bucks for the Jamie Oliver or Food Network apps, consider these fine offerings..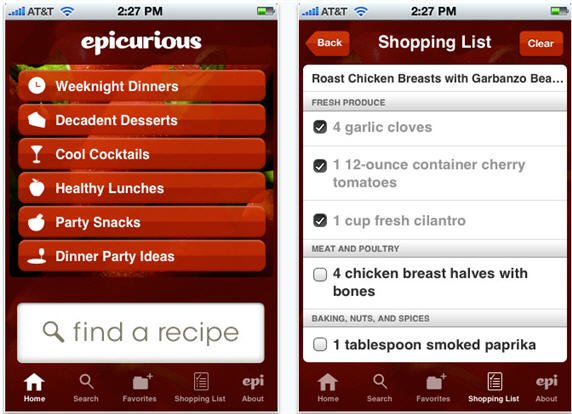 Epicurious
From Matzah ball soup to enchiladas, traditional wedding cakes to Bloody Mary ice pops, Epicurious has an incredible range of recipes. The app takes the figuritive cake because it's so damn easy to use: you can search by meal / course, cuisine, dietary restrictions, even by the season or occasion. A handy-dandy "shopping list" feature adds all the ingredients in the recipe to a virtual shopping list you can bring with you to the supermarket. In total, Epicurious has an impressive 25,000 recipes, each with pictures, reviews and well-writ introductions. Bravo!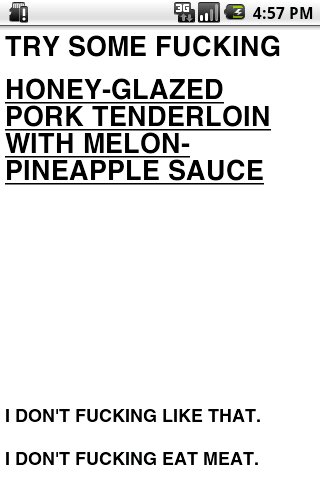 WTFSIMFD (What the F**** Should I Make For Dinner)
Imagine you're in a loud diner where everyone is hurling obscenities into eachother's faces. WTFSIMFD is that diner. This hilarious app puts the f*** in f****ing good fried chicken. The app offers expletive-ridden cooking tips, allowing cooks the opportunity to reject the suggested recipe on behalf of their taste buds (" I don't f****ing like that!") or for moral reasons ("I don't f****ing eat meat!"). The app then refers you to a recipe online. The app is bare bones, but innovative, and it certainly made us giggle, so we recommend you download it for laughs for the occasional random recipe and use the other apps listed for your regularly-scheduled cooking sessions.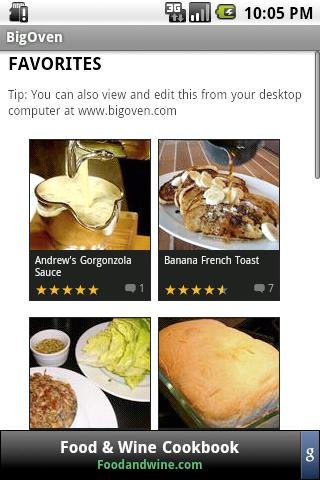 Big Oven
Big Oven might not be the most aesthetically-pleasing app but what it lacks in beauty it more than makes up for in brawn. This app contains a whopping 176,000 recipes. For example, when I searched for "macaroni" I got 1,518 recipes (!) The recipes include introductions, pictures, and reviews, but the searching function isn't nearly as intuitive as Epicurious since it has no start-screen detailed search option. Instead, you can tweak your search results after you've entered in your search terms. One nice function, though, is the Leftover Wizard, which whips up a recipe based on whatever three ingredients you have lying around from your last recipe - I typed in "carrots," "beef," and "onions" and got a yummy-looking Sunday pot roast recipe. For those who feel limited by Epicurious' paltry-by-comparison 25,000 recipes, this one sure is massive, although it had us missing Epicurious' pleasing graphics and super intuitive search functions.
UPDATE: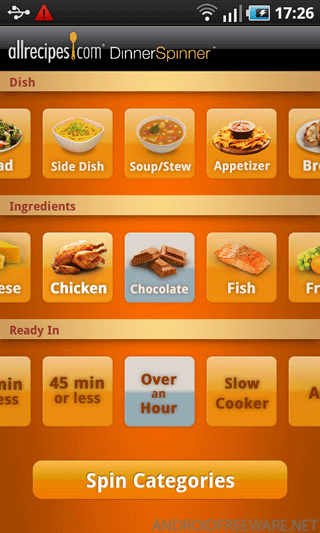 All Recipes Dinner Spinner
We felt bad that there weren't a lot of apps for download in this list so we took the advice of commentor David G and gave the Dinner Spinner a try. It's totally great and far more worthy of being on this list than the "Our Groceries" app [which we've since took down (though we'll keep our recommendation of WTFSIMFD since we maintain that the app is functional in addition to being funny)]. Dinner Spinner takes the search functionality of Epicurious and ratches it up a notch by allowing you to literally spin through meal choices from fish to meat to pork, and easily pinpoint the recipes that fit the time frame you have to cook. Recipes include a picture, summary, list of ingredients and directions, in addition to nutrition information. It's also easy to sort through the search items any way you want, by rating, relevance or popularity. The app is beatiful to look at and incredibly functional, and it doesn't just contain recipes for dinner. Definitely worthy of a download.