Malicious Android App Goes Rogue, Spewing Humiliating Texts to Everyone in Phonebook You'd think they'd at least have come up with funnier spam to send. A fake copy of the 'Walk and Talk' Android app has been using malicious software to send thousands of Android users' information to a remote server while sending the following message to those listed in the phone's contacts: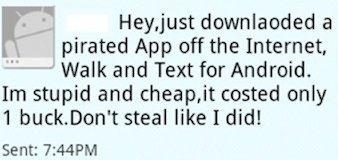 A scolding rogue text, with plenty of spelling errors.
According to Symantec, the rogue app is similar to other fake Android apps that host malware. Walk and Talk's developer has denied any connection to the rogue app and has threatened to sue AVAST Software, a security company based in the Czech Republic that orignally broke the news.
The original Walk and Talk app allows users to text and walk at the same time by using the smartphone's camera to show the user what's in front of them while they text.
This is not the first time that malicious apps have popped up in Android land. Earlier in the month, Google had to yank more than 50 infected applications in its Android Market, all of which were infected with the same code.
Still, Google decided not to remotely pull the apps. Like Apple, Google has the ability to push a button that instantly remotely removes malicious apps from all Android phones. The company has used the button at least once before, but likely won't in this instance.