Manilla Bill-Paying App Comes to Android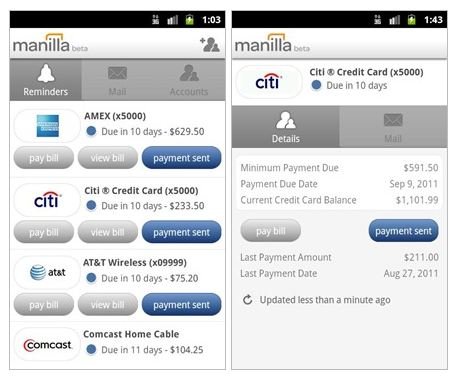 Manilla, an online bill-paying site, recently launched an Android app that'll allow users to manage multiple accounts and pay bills from their phone. The free app alerts users when bills are due and allows them to view bills and statements while on-the-go. Manilla says they've even formed partnerships with sites like Groupon to alert you when special deals you're interested in are expiring.
How does it work? Well, Manilla seems to have formed a partnership with a number of household, finance, subscription and rewards institutions. You sign into your accounts via Manilla and from there you can manage all your payments on the same page. Bascially, Manilla offers an easy, comprehensive interface displaying all of the different accounts and subscriptions you have – from your Bank of America account balance to your subscription to Esquire or Comcast.
I've used Manilla's online service and found it to be incredibly easy to use and very aesthetically-pleasing. No doubt some will be put off by the idea of giving one site access to all of their account information, but Manilla is verified by Truste, McAfee and VeriSign. At worst, the site probably provides anonymous data about your buying habits – but so does your bank. If you're looking for a simplified interface to manage your various accounts, Manilla is great.