Meet Mark Zuckerberg - Google+'s Most Popular User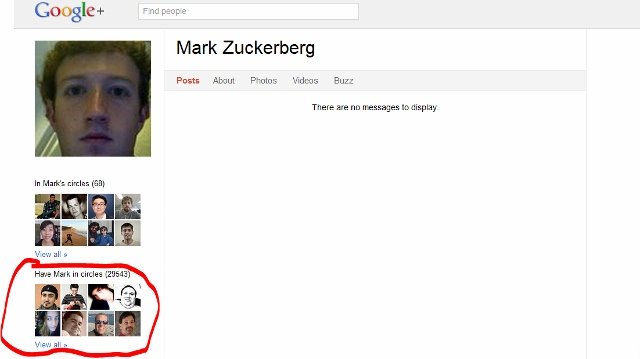 Oh the irony! It appears as if Mark Zuckerberg - the social network czar - has accumulated more followers on Google+ than Google's main man Larry Page. The story has since snowballed on Twitter with all sorts of conspiracy theories.
With close to 30,000 followers, Mark Zuckerberg has no interesting content to show for it. I guess actually posting something on Google+ would be going to far for its number one arch competitor. To be honest there isn't anything surprising in the fact that Mark got some many followers. No disrespect Mr. Larry Page, but have you had a Hollywood feature film made about you? Is your cover on the frontcover of TIMES magazine? So given all the crazy buzz and hype surrounding the founder of Faceook, it's no wonder the Google executives can't catch up right now.
On the bright side, we all know perfectly well that both Mark Zuckerberg and Larry Page will be left behind in the dust once Kanye West and Rihanna start up their Google+ accounts