 MightyText Pushes SMS Text Messages and Phone Calls to PC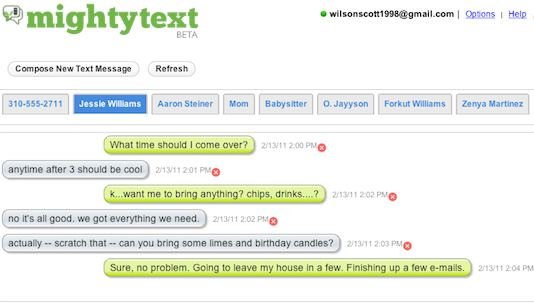 (Picture: Engadget.com)
Today, almost all of the phones of the world are connected to the Internet, so anyone connected to the PC could potentially send a text message over the internet to a phone. That's where MightyText enters the picture.
One of the new add-ons for Chrome, MightyText pushes text messages sent to your phone to your browser, so you never miss an important message while you're surfing online. From there, you can even text back, and the message will appear on your friends' cell phone as if they were sent from your number. The idea is "crazy simple," as Engadget writes. But also genius.
The program is still in beta stage and, as such, requires you to sign up to get an invite. Apparantly since the app was written about my Engadget, the response has been so overwhelming that the developers are taking days to respond. But if you'd like the app sooner, you can get an expedited delivery by tweeting about the app. Click here fill out an invite form and find out more.