[Mini-Review] Goodreads for Android Lets You Stalk Your Favorite Writers, Snoop Through Other People's Bookshelves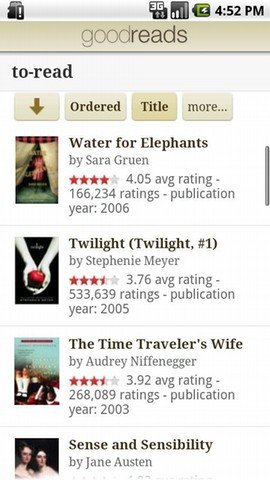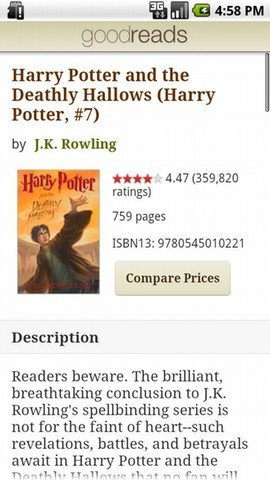 Not only do I love snooping around other people's bookshelves but I love when people snoop around mine. Goodreads is a virtual platform for doing just that.
The website launched in 2006 and it feels like a sophisticated Facebook...for books. There are author pages with videos, quotations and lists of fans. And every time you click on a book to add it to your shelf, there's an opportunity to give the book a review. Perhaps this is why the site has amassed so many reviews in such a short time.
Goodread reviews are different from those on Amazon in a few ways. First, there's no commerce involved, so reviewers aren't writing comments about books with an eye toward persuading another shopper to buy or not buy anything. Goodreads reviewers are simply book lovers interested in sharing their thoughts. Second, there are fewer reviews that serve as a form of protest on behalf of a reader who hated the book. Most of the reviews, instead, are quite thoughtful...even thought-provoking.
Adding books to your bookshelf is completely addictive. Once you've added one, you have to add another, then another, and review these books as well. It's somehow comforting, once you're done, to see all your favorite books on one page, each one representing a slightly different time in your life. Together, perhaps, they form an impression of who you are and what you care about.
The Android App includes many of the functions of the website. You can review and rate books, check out author pages, update your profile and view your bookshelves (which you can organize however you want). But, wandering through this app, I missed the generous use of white space on the website, the fun of its friend feeds and the group lists like "Worst Books Ever Written." Perhaps there are ways of accessing these features on the Android app, but they aren't intuitive.
Still, if you're the kind of person who enjoys discovering new books, writing reviews and stalking your favorite authors, this app is a must. It includes all the basic features of the website, and is easy and fast to use.