 Mobile Ad Spending in US to Top $1 Billion, Up 65% from Last Year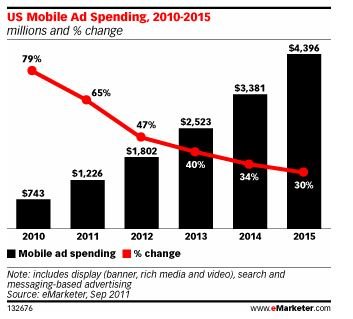 Advertisers will spend nearly $1.23 billion on mobile advertising this year in the US, up from $743 million last year, according to new forcasts by eMarketer. Yup, not a ton of money, but nothing to scoff at either.The same firm also predicts that by the end of 2014, advertisers will be spending around $2.5 billion per year. In other words, the world of mobile advertising is growing, and quickly!
Of course, expanding wireless coverage, widespread data plan adoption and loads of free apps that rely on advertisers are all contributing to the growth of mobile advertising, in addition to the explosion of smartphone usage.
But the kinds of advertising on smartphones we're seeing today are not the kinds of advertising we'll see next year.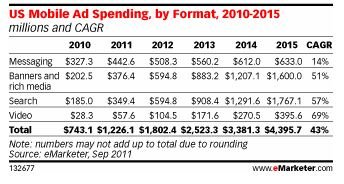 Today, messaging-formats take the largest piece of advertising spending – which, come to think of it, sounds ineffective. After all, whenever I've received text messages from advertisers, I try to trace it back to the offending app and delete said app immediately. I much prefer my advertising in the form of a banner and, thankfully, this is the sector that's growing the fastest (like the kinds of ads you see while playing Angry Birds).
Smartphone advertising may be annoying but it allows for the proliferation of free apps we see today on Android Market. Or would you rather pay for your app? That is the question.
Related:
[Study] In-App Advertising Delivers Steady Stream of Revenue Throughout the Day

Advertising FAIL: Sony Xperia Play's New Ads Are Just Plain Creepy

[Infographic] The War Between Android and iOS Over Mobile Advertising