Modern Combat 3 Explodes On to Android Market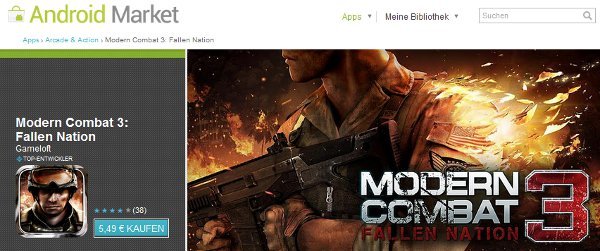 Advertised as "the deepest and most intuitive FPS (first person shooter) gameplay on smartphones," Gameloft's Modern Combat 3 is an immersive multiplayer shoot-em-up that takes place over 13 different locations from Los Angeles to Pakistan. The game also offers impressive multiplayer capabilities – up to 12 players can play against eachother over 6 maps and 7 different modes.The plot involves all the usual first-person-shooter suspects: lots of bad guys, organized mobsters and other evil-doers wreaking havoc in the suburbs, atop skyscrapers and everywhere in-between.
The impressive gameplay comes at a price, though – according to Android Police, Modern Combat 3 takes up a whopping 1.37 GB of memory space and will probably only work on higher-end devices running Android 2.1 and above. The game costs $6.99 and reportedly pushes in-app purchases as well. Still, fans of the Modern Combat series will definitely want to check this one out.