 Motorola Marketing Fail: Fans Reject Company's Apps, Request Unlocked Bootloader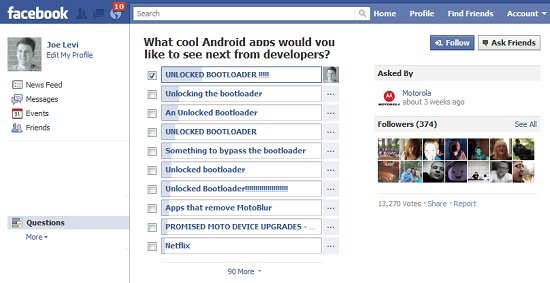 "What cool Android apps would you like to see next from developers?"
This was the seemingly innocuous question Motorola posed to fans on their Facebook page, but the social media outreach attempt went wrong in the truest sense of the word.
Instead of the typical responses one would expect in this instance (a better music player, an improved browser) Motorola was inundated with requests for an unlocked bootloader. Just take a look at the responses below:

Being able to unlock the bootloader is the first step in rooting an Android-powered phone or tablet, so what the fans are demanding -- in essence -- is the ability to do whatever the hell they want with their phones without the help of Motorola.
Motorola thinks they're developing phones for the masses but the masses seem to want to develop their own phones...