 Motorola Triumph - A Solid Choice for Virgin Mobile Prepaid Customers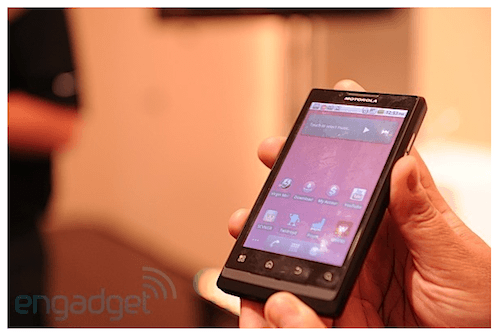 (Photo: Engadget.com)
Historically, prepaid customers have gotten the shaft when it comes to new cell phone technology. But with the Motorola Triumph, the Android gods have thrown the contract-averse a tasty bone.
Although the Triumph has just a 4.1 inch display, it looks bigger in person, thanks to edge-to-edge glass. The sides are pretty clean, too, since the phone comes without a dedicated camera button. The screen ain't qHD but colors look very decent. Overall, this looks like a very solid choice.
Full specifications and a hands-on video below:
• Software Platform: Android – Froyo
• Messaging/web/apps: MMS, SMS, email
• Camera: 5MP AF with flash, VGA front facing
• Video: 30 fps @ 720 p decode 30 fps @ 720 p 14 Mbps encode
• Connectivity: microUSB, 3.5mm , HDMI port
• Browser: Android Webkit Browser
• Bluetooth: BT V2.1 + EDR
• Memory: 512MB RAM/ 2GB ROM, uSD Slot
• Location Services: aGPS
• Form Factor: Tablet
• Experience Category: Media Centric
• Baseband: Qualcomm MSM8655
• Weight: 143g
• Dimensions: 4.8″ x 2.5″ x 0.4″Display: 4.1″ 800 x 480 WVGA
• Battery: 1400 mAh
• Bands/Modes: CDMA 1900 MHz EVDO RevA, 802.11 b/g/
The device should be available to Virgin prepaid customers later this Summer...