 Mysterious Dual-Screen Android Phone Discovered at London Press Event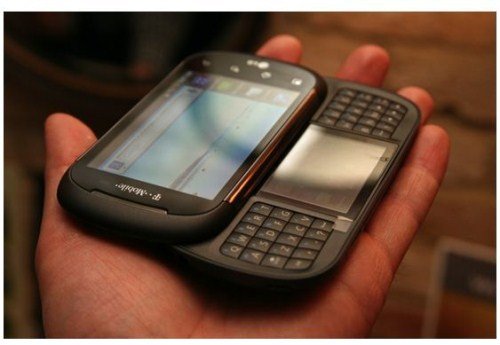 (Photo: Pocket Lint)
Pocket Lint, a UK-based phone blog, recently snapped a few pictures of a mysterious dual-screen LG Android phone at a London press conference for Orange and Kineto Wireless that has got us pretty excited.
Unlike the Kyocera Echo, this as-yet-unnamed dual screen phone has a full (albeit split) physical keyboard nestled between an LCD screen with room for six app shortcuts. This could be helpful for multitasking between different screens, since users could easily toggle a shortcut and move quickly between tasks.
The phone is a "fairly hefty" device, according to Pocket Lint, with "fairly generous bodywork."
Could this be the rumored LG Flip II? Or the LG Maxx Q?
We'll let you know when we know..