 NASA App Review: Astroids and Sunblasts and Liftoffs, Oh My!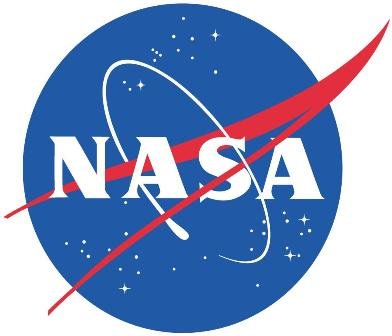 The new NASA app is an exciting addition to Android OS, filled with live-feeds from spacecrafts, impressive launch videos and feature articles on asteroids, cosmic dust, solar flares and more. Whether you're the kind of guy or gal who loves spending hours at the planetarium or are casually interested in dark matter, sun storms and lunar eclipses, the app is a worthy (and free!) addition to your Android. See our full review below.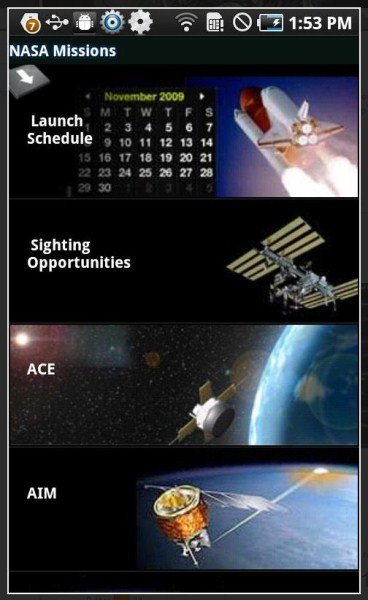 Missions
In the missions section of the app, you can see a list of many of the things NASA has shot into space, including a detailed description of why they were shot into space. One such craft, named Stereo, captures 3D images of the sun in order to measure things like geomagnetic storms. Another craft, named Maven, attempts to record the history of Mars atmosphere and climate by measuring the loss of volatile compounds, such as carbon dioxide. The descriptions also include a list of the gadgets onboard the crafts. So now you know what man-made technology is spinning around our planet and why.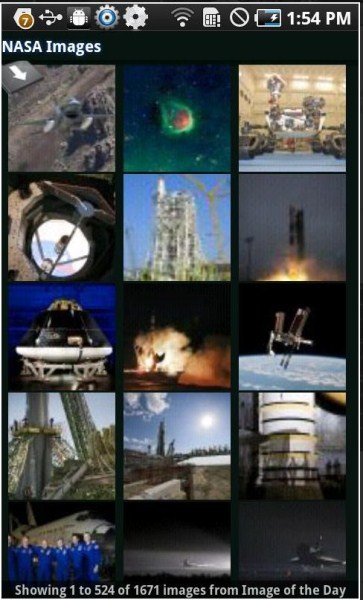 NASA IOTD
NASA IOTD offers a huge selection of images from NASA's database. Here you can see images of shuttles mid-liftoff, of space crews floating in zero gravity chambers and of galaxies far, far away. In need of some nice wallpaper for your cell phone? You can make any of these images your wallpaper at the click of a button, or share them via Facebook or Twitter.
NASA TV
This section of the app includes TV listings and two streaming video feeds from on board the space shuttle. When I tuned in to one of the streams, I could see the sun rising behind a shuttle, a dark Earth orbiting slowly below. The noise from the stream sounded like buzzing electrical equipment. Feed two featured a female astronaut who looked like she was unpacking something from a crate while spinning around in zero gravity. It was like watching a reality TV show involving real astronauts. So cool.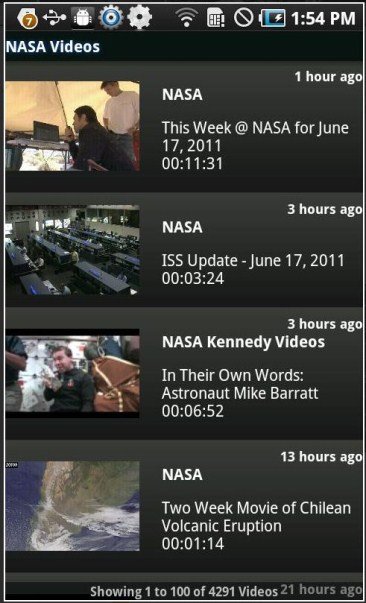 Videos
Feeling nostalgic about the Kennedy launch? Here you can re-live many famous moments in NASA history and learn a bit about the company and its values. For example, did you know that mission control center plays Chumbawumba's "I get knocked down" to wake up the crew of Atlantis? Now you know. The only thing I didn't like about this part of the app is that it sometimes re-directed me to Youtube, where I'd have to manually make the video full-screen. When will app developers realize that apps should rarely, if ever, force users to a website? I can surf the net instead, thank you very much.
News and Features
Oh boy, we could probably spend hours here. News and Features is kind of like visiting your favorite natural history museum... on your phone. There are a ton of informative articles about everything from nearby black holes to new aeronautic technology. Wanna know what's up with the sun these days? Find out here. The amount of information provided is truly overwhelming.

Other Features
There are also listings of every NASA center in America, featured articles and official company Tweets (the latter of which is probably only interesting to die-hards).
Conclusion
Overall, we loved this app. It's not the most aesthetically-pleasing thing around but it has some amazing features, including those live feeds, that really make you feel a part of the NASA family. There's also a truly bewildering amount of information to be gleaned from reading NASA literature about various space-related topics. And, best of all, the app is totally free.