 NASA "Launches" Official App (Get it, Get it?)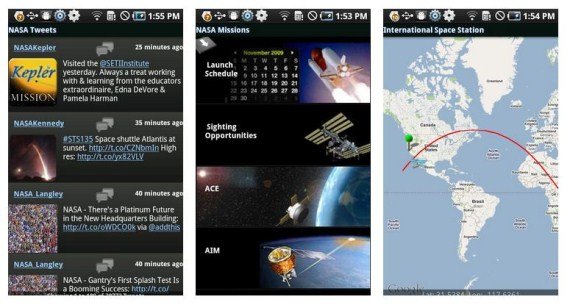 With the final space shuttle launch imminent, NASA has decided to launch something else as well: their own Android app. The app features thousands of starry NASA images, technical launch information and countdown clocks, and live streaming NASA TV...all of which sounds awesome if you're the kind of guy that went to space camp as a kid and dreamed of meeting Mr. Armstrong. And of course, everything is totally well-connected to Facebook and Twitter.
Click below to get the full list of spaced-out features. Well, not "spaced-out" as in "distracted," but "spaced-out" as in "totally far out."
Thousands of images from NASA IOTD, APOD and NASAImages.org
On demand NASA Videos from around the agency
Current NASA Mission Information
Launch Information & Countdown clocks
Current Visible Passes for the International Space Station (ISS)
ISS and Earth Orbiting Satellite Tracker
NASA Twitter Feeds from around the agency
News and Features from the NASA topic areas
Facebook® Connect and Integrated Twitter™ client for easy sharing
Live Streaming of NASA TV
NASA TV and What's On Your TV schedules
Map and links to all of the NASA centers
Featured content section
Check it out in the Market today!