New $45 Unlimited Data Plan Challenges Verizon and AT&T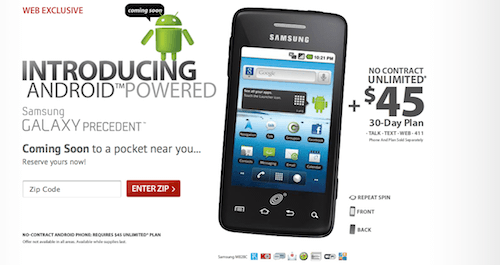 While everyone is always buys focusing on the largest American providers, some of the smaller prepaid companies in the States are making waves with deliciously affordable deals with brand-new Android phones. TracFone, the American subsidiary of the Mexican America Movil company, is releasing the Samsung Galaxy Precedent with its new Straight Talk brand. Not only is this going to be the first Android phone on the network (hence called the Precedent), but it's also going to a great deal for consumers. The phone is set to launch at $150 without a contract and the best part is: StraightTalk offers a real unlimited plan for just $45 a month. Sound a bit too good to be true, right?
The Phone: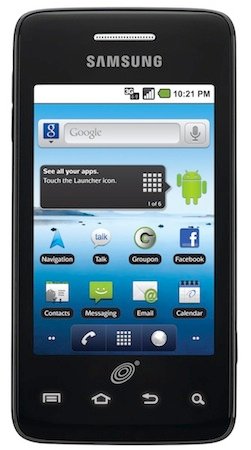 The Galaxy Precedent is basically a low-cost trimmed down version of the Samsung Galaxy S. It's got a very modest 800MHz processor, just 384 MB of RAM and an admitedly crappy 2.0 megapixel camera. But with the built-in GPS, Wi-Fi, 3G and Bluetooth - this phone has all it takes to keep most average users satisfied. And of course you should be able to play Angry Birds on the Precedent without any issues. It may be a run-of-the-mill generic-looking Android phone, but priced at just $150 without a contract it could be popular among people looking for more flexbility at a lower price. It looks like it's going to also be a CDMA phone and it will use both the Verizon and Sprint networks.
The Plan:
We've all had our fair share of frustration at Verizon, AT&T and T-Mobile slashing their unlimited plans. Suprisingly, Straight Talk promises customers a truly unlimited plan with no hidden fees for just $45 a month. That includes nationwide calling, texting and internet. We won't believe it till we see it, but we're already pretty excited about it.
The Catch:
When you buy the Precedent phone it doesn't come with a contract. The problem is that it won't work on any other network. It's a CDMA phone bound to the Tracphone network. So once you get the phone, you are pretty much stuck with it.